Stephen's Story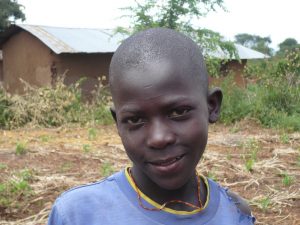 Open Hearts and Minds transformed Stephen's life, and we couldn't be more proud of the young man that he has become.
When both of Stephen's parents died, he and his younger sister, Wendy, went to live with their grandma.  He started attending a government primary school and Wendy joined OHAM in 2010.  We met Stephen in 2012 when he was 9 and his life had taken a turn for the worse.  He had been excluded from school as his attendance was poor and behaviour disruptive. From the age of 6, Stephen had been going to Lake Victoria to fish in order to make some money to buy food for his grandmother and Wendy. The Lake Victoria fishing community was no place for a 6-year-old to be on his own… it was heartbreaking to hear that Stephen had to do this.
We talked with Stephen, and he told us he wanted to join Open Hearts and Minds School. Edward believed that his previous issues at school were due to his difficult family circumstances and the lack of any real pastoral care in the larger classes there.  At that time Open Hearts and Minds had never taken two children from the same family as we were trying to help as many families as possible in the community.  However, we felt in these circumstances we needed to make an exception – if we didn't help Stephen, who would?  We decided to accept him into Open Hearts and Minds School and give him a second chance.
Stephen started at OHAM school in January 2013.  Because he had not been in school for a few years he was placed in the grade below Wendy, even though he was 2 years older.  It wasn't easy for Stephen to be with much younger class-mates but he was so happy to be at Open Hearts and Minds and he rose to the challenge.  Since then, not only has Stephen worked so hard in his studies, but he has also been a model of good behaviour. His Grade 8  exam results placed him in the top five students out of over 400 in our school district!  He was also selected to give a speech to the whole school and the parents at our Celebration Day for his last two years. 
Stephen has now started secondary school and is looking forward to a much brighter future.
Be a part of making a child's dream of education come true today and sponsor a child.
Read more of our children's stories.