EDUCATION MATTERS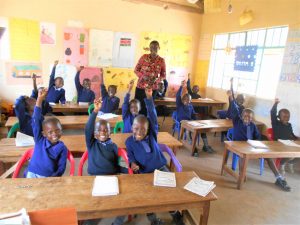 Learn how OHAM School has been making a child's dream of an education come true since 2010.
Open Hearts and Minds School is located in the village of Kokoth Kateng, a deprived community of approximately 5,000 people. It is in western Kenya, near Lake Victoria and about 10 hours drive from Nairobi. In this village, they have no access to clean water, no electricity and few job prospects. Life can be a struggle. Learn more about life in Kokoth Kateng.
The families of our children at Open Hearts and Minds School cannot afford to send them to the local government school. Learn more about education in Kenya. Education is a dream for our students. We've made that dream come true, and now you can too. In January 2010, we started with one class of 10 disadvantaged children in an old borrowed schoolhouse and from these humble beginnings we've grown every year since! We add a new class of 10-12 children at the beginning of the school year in January. Now we have over 100 students at the school all eager to learn. This makes us so happy!
Our children get a free high-quality education, and due to our small class sizes, they benefit from a lot of individual attention. We also provide two hot, nutritious meals each day as many of the children go without food at home.
Buy lunch for a whole class…Donate now!
Edward manages the school with the help of the head teacher. The qualified teachers all live in Kokoth Kateng and other surrounding villages. Our school follows the same curriculum as the government-run primary schools, and we have become one of the best performing primary schools in the area based on the children's exam results. We are so proud of everyone at the school for this amazing achievement.
Make a child's dream come true and sponsor one of our children today!
HEALTH MATTERS TOO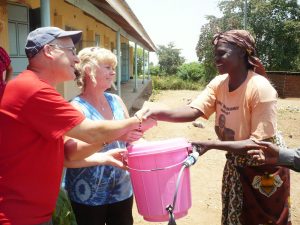 It's simple – if you are not well, you can't go to school. In this part of Kenya, there are serious diseases, including malaria and cholera that can kill a child. So unsurprisingly Open Hearts and Minds is also very concerned about making sure the children stay healthy. If a child is ill, we make sure they get the treatment and medication needed and cover the costs. 
In addition we make efforts to try and prevent the children from getting some of these awful diseases. We have provided mosquito nets and mattresses for all our children to protect them against malaria which is prevalent in the area. Buy a mosquito net or a mattress to protect another child…Donate now!
We have also set up a clean water scheme within the community and distributed water filters that provide safe drinking water for approximately 100 families. Learn more about the clean water scheme.
Buy a water filter and give 3 more families safe drinking water..Donate now!

FUNDING THE SCHOOL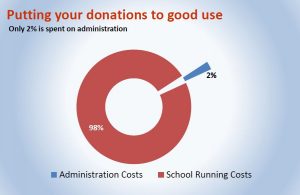 As you can see, we don't only provide education but health resources too. The Kenyan government does not provide any support for us,
so we rely solely on raising funds to ensure the school can continue to grow. Every year brings new challenges, from textbooks and new
school uniforms to desk repairs and kitchen supplies. We are a small organisation so we keep our overhead costs to an absolute minimum. This means that your money goes directly to help our children at school… they are so grateful for your support!
IT ALL ADDS UP AND WE NEED YOU TO HELP US GROW THE DREAM!
---
  ♥   For less than the cost of a coffee a day, you can sponsor a child for £20/$30 a month.                                                   See what some of our current sponsors have to say.
  ♥   Make a donation today to support the school.
  ♥   Give a gift that gives twice… send a gift to a friend or loved one and support Open Hearts and Minds at the             same time through our Double-the-Love gift scheme.
  ♥   If you feel more inclined to fundraise, we have had everything from yoga classes to craft fairs and                             wine-tastings held to support us! We welcome your creativity and energy in our mission to help make                       the children's dreams come true!   Become a fundraiser today.