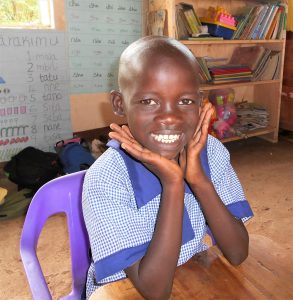 Up to 1.4 million children cannot afford to attend primary school in Kenya. 
You can make a child's dream of an education come true when you choose to sponsor a child at Open Hearts and Minds School.  Find out how OHAM has changed the lives of our children… read their stories.
For ten years, OHAM has been providing children in an underprivileged village the chance to have an education. Sponsoring one of our children is a special kind of giving – not only will you feel the satisfaction but you will see it. Our sponsors often comment on the special bond they develop with their child as they see them flourish and blossom over time. Read what our sponsors say.
Do you want to have the privilege of giving something back? 
Now is your chance!  Sponsor one of our children for less than the cost of a coffee a day at only £20 or $30 a month and you can ensure that another child doesn't miss out on their education… together we can break this cycle of poverty!    
What does your sponsorship cover?

 

What do you get out of it?

All the materials a child needs at school including exercise and textbooks, crayons, etc. 

 

A welcome pack with an introduction to your child's background and circumstances..

A quality education provided by local qualified teachers.

 

Letters and updates throughout the year, including photos and school reports of their progress.

Two hot meals a day; especially important as many of our children go without meals on a daily basis at home.

 

The satisfaction of knowing that you are improving the life of a child a hundred-fold.

This is a gift worth giving – wouldn't you agree?
Your sponsorship WILL make a difference; you will be giving a child hope and a chance to live not just survive!
Sign up today and we will contact you regarding your child and confirm payment options. 
Thank you for being here and we look forward to you helping us make their dreams come true!